What does summertime stir in you? Nostalgic images of sandcastles and sunshine? Pimms in the park? Getting unfathomly, yet temporarily besotted with tennis? Or are you thinking more along the lines of chafed sandy bits and sunburn, lukewarm cans in a soggy campsite and being slightly confused as to why Mastermind is not being shown at 8pm on BBC2? Well, fear not, if summer's not your thing. You are not alone. There's enough on 'Me Moan' to suggest that Daughn Gibson is firmly planted in the latter camp with you.
'Me Moan' is Gibson's second record, and his first offer from the ever-reliable Sub Pop records. It's fair to say that this record took a bit of effort to get through, it's not the easiest listen on first go, but if you keep with it, the more you listen, the more you find going on here. It's also a pretty safe assertion that this is different from pretty much anything else that has come my way this year. Whilst the constituent parts may all sound reasonably familiar, there's a bit of country (All My Days Off), a little Americana twang (Kissing on the Blacktop), some heavy and messy electro production (You Don't Fade) and yep, even some bagpipes (Mad Ocean), when they all get thrown together like this, it somehow works in a way it shouldn't.
However, despite the varied nature of the accompanying vibes, the clear effort to cheat at Scrabble by adding quite so many superfluous letters in the name Don, it's Gibson's vocal that proves the most striking feature of 'Me Moan'.
From the opener 'The Sound Of Law' you get this feeling in the pit of your stomach. There's something happening here, something a bit moving. Something that is a bit captivating. Something that it a bit exciting, a bit hypnotizing. Something that is starting to make me feel all funny inside. Turns out that feeling is the vibration of your lower intestine vibrating as result of Gibson's sub-woofer emulating barritone delivery. It's unique.
In fact, it's so unique, it sort of sounds like he's putting it on, until the lyrics land with you. At this point you realise that he means every last word of it. This will not be the peppiest record you listen to this summer, there's no doubting that.  'Me Moan' is not going to soundtrack barbeques, boat trips or bar mitzvahs. This is a syphilis-and-all take on small town America which covers topics such as afternoon drinking, illicit parking lot fumbles, bidding adieu to dead abusive fathers, and depressed offspring. Party! Party! Party! Right?
Check out 'The Sound of Law' here: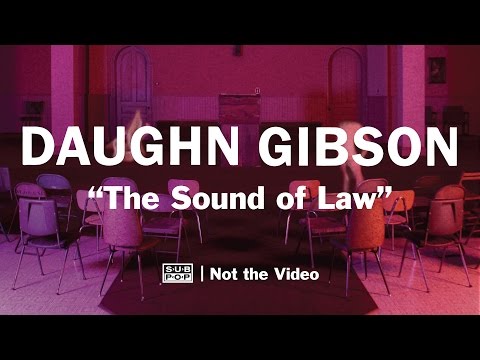 Whilst this will sit at odds with most other records you spin this summer, there's every chance this will still be scrobbling come the end of year polls. Oddly, and darky moreish.
8/10
Have your say