When asked to think of Bon Iver, many may imagine just one rugged man from Wisconsin with his acoustic guitar, the combination of which, despite its simplicity, has certainly earned the various accolades attributed to debut album For Emma, Forever Ago, thanks to its insistence to wrench on your heartstrings and an overall much-more-than-folk sound. They might also think of that "Birdy" girl but, whatever.
In truth though, and in particular since his second, self-titled album, Bon Iver has become something so much bigger – a definitive sound with that ultra-recognisable voice with its incredible range, and a collection of songs with such deep meanings and lush textures that it's impossible not to feel completely enveloped by them. Bon Iver has also transformed from one man into many, for live performances at least – namely Justin Vernon himself alongside nine others contributing both instrumentally and vocally.
Such a drastic re-imagining and hefty stage-presence ended up being necessary with that second album surpassing all fans' expectations due to its complexity when compared with the first, and despite some songs still being performed "traditionally" – by Justin alone – it's easy to come to the conclusion that there is no better way to experience Bon Iver with your own eyes and ears.

© Rex Features / John Rahim/Music Pics
Sonically, the songs fans know so well and cherish so deeply sound fantastic, just like the album, with enough room for improvisation from each member here and there. Crucially though on this night, the group surprised fans even further by showcasing their material under new lights – tempos were altered, structures differed, and unexpected sounds came right into the foreground, making Bon Iver's live show not just another performance of stuff you already know but louder; it became an experience – fresh, new, exciting, captivating.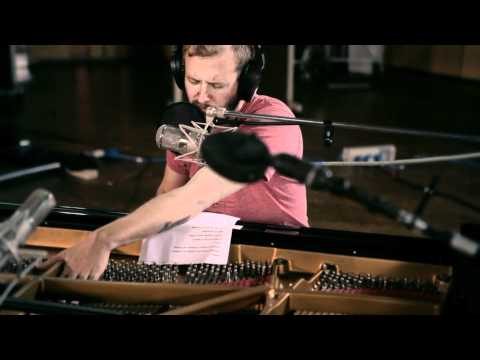 Bon Iver's songs are nothing short of serious – you only need to learn of the difficult context which surrounded the recording process of For Emma… to understand how much emotion has been channelled into each track – but in-between songs, Justin spoke to and with the crowd, expressing his sincere gratitude for the overwhelming support for his music with a smile on his face – a welcome sight for someone so insistent on translating heartbreak into art.
Prior to the ten-strong ensemble taking to the MEN's stage, the arena was blessed with rich, pitch-perfect harmonies and simple-yet-entrancing acoustic guitar work from UK trio The Staves. Despite their comparative lack of dominative stage presence, the girls held their own and shone where it really mattered – in the music. In line with their recent TV appearance on Later… with Jools Holland (aired on the same night as this gig, in fact), expect to see The Staves growing much more popular in the near future.
Many people express that the music of Bon Iver, whilst moving, heartfelt and strong, does not make the listener feel 'good'. Musically and lyrically, Justin's work is highly commendable and genuinely loved by his fans, but with such a high level of negative emotion surrounding the music, it's difficult to feel uplifted by most tracks from the two albums. And whilst this notion is re-felt to an extent when experiencing Bon Iver's most powerful songs live, you don't leave the gig feeling low and depressed so much as invigorated, satisfied and even rather overwhelmed at just how well the band transmit their music through live performance with a monumental degree of originality and creativity.
Please come back to the UK, Justin. And get that third album finished.
Have your say